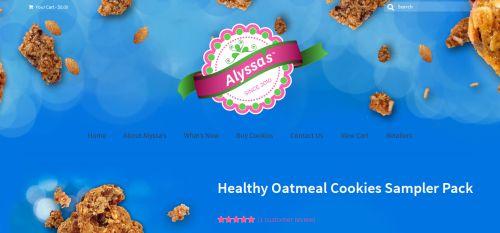 Mark Cuban influence is immense as shown when Cuban referenced Alyssa's Cookies in an interview the site crashed with the amount of traffic it was getting. Cuban mention Alyssa's Cookies on The Dan Patrick Show as the best product he invested in. Cuban's glowing endorsement cause the site to go down and is still not fully operational.
Alyssa's Cookies started it's life in 2010 when they're were available at a retail bakery/deli store. The company wanted to create a higher quality cookie and the first cookie was a healthy oatmeal cookie with dried fruits and almonds. The company has expanded to a protein cookie and a line of gluten free cookies. Alyssa's Cookie recently added Oatmeal Bites and Vegan Bites to it's line.
The company maintains these standards to make a high quality healthy cookie
Authenticity from scratch to finish using only 100% natural ingredients.
1- Use only raw, simple, unprocessed, unrefined, 100% natural ingredients
2- Bake everything from scratch.
3- Use no fillers, flavoring, or shortcuts.
4- Accept no compromises in quality.
Check out Alyssa's Cookies HERE